National Meteorological Communication Center (N.M.C.C)
Main Functions
National Meteorological Communication Center is an important unit of Pakistan Meteorological Department (PMD) where the collection of Met data and its rebroadcast both on National and International take place.
Timely transmission / provision of the data to users forecasting of the data is also the responsibility of this unit.
The NMCs work under the international commitments and obligations especially the effective implementation of AWMO scientific and technical programs under the resolution #440 of the twelfth congress.
National Meteorological Communication Setup in PMD
The NMCC System being used for Speedy dissemination of data is comprises of :
Telecommunication System
Internet
Single Side Band (SSB)
SMS (Internet Messaging)
Leased line circuit of 64 kbps and 50 bauds (New Delhi & Tehran Circuit)
TWI (Tsunami Watch Information)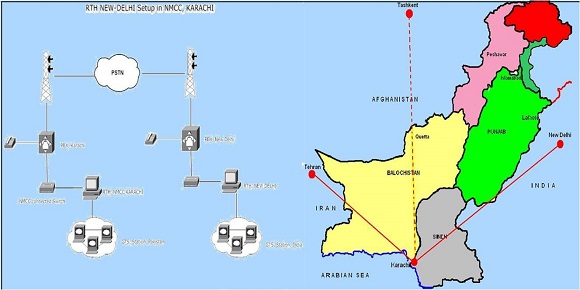 In RTH, the NMCC Karachi is connected with New Delhi through Public Switched Telephone Network (PSTN). There are multiple GTS stations in Pakistan and India. In Pakistan these GTS stations connected with NMCC Karachi, This RTH system behaves like a server as well as client which broadcast and receive data from India periodically. In the setup of RTH both (NMCC, New Delhi) connected with local telephone exchange. In both end of RTH, the systems connected with local switch which is further connected with local telephone exchange PBX by which the communication setup is possible.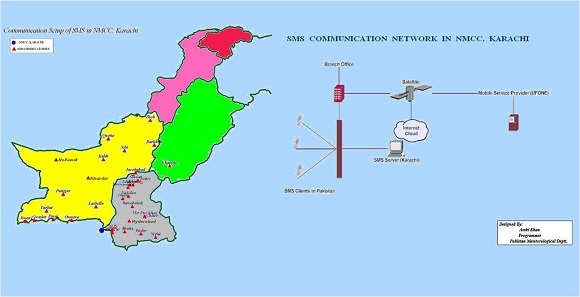 NMCC is using UFONE SMS service for a purpose of mobile communication in Karachi. There are certain SMS clients in Sindh and Balochistan which sends SMS data through mobile phone to NMCC SMS server. In SMS Server there is Wireless LAN card installed in a system, UFONE SIM installed and activate in a card which makes a system a server

COROBOR is software which behaves like a FTP server for data uploading and downloading. There is a COROBOR Messir-server installed in NMCC Karachi, which is connected with NMCC Karachi client, the other two clients are Seismic and Mac Karachi. the Messir-comm server is connected with PBX on typical telephone exchange through local switch and the connectivity is forwarded to New- Delhi India. There is a Dual-setup b/w Karachi and New Delhi on FTP and TCP. There is another alternate connection b/w Karachi and Tehran which support single connection on FTP.